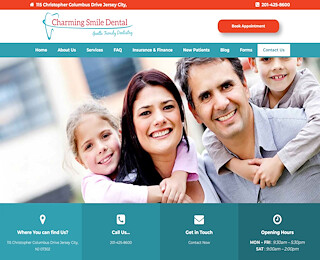 At Charming Smile Dental, we're excited about the benefits of Invisalign in Jersey City as being the most popular way to straighten teeth without metal wires and brackets. If you're looking into braces for yourself or your teen, we'd love to help you explore your options in treatment. Clear Invisalign braces are the world's first choice for discreet, effective treatment.
Free Invisalign Consultation
Schedule your evaluation with our staff to discover the multi-advantages of Invisalign treatment. If the thought of a mouth full of metal is keeping you from moving forward with orthodontic treatment, you should know that Invisalign can correct your smile with no wires, bands, or brackets- and Invisalign's aligners are completely removable- you can take them out for up to two hours every day throughout treatment.
Clearly the Best Choice
Discreet Invisalign aligners are made from smooth plastic and are virtually undetectable in appearance. Both adults and teens prefer clear braces over conventional braces because Invisalign is sensitive to the patient's social life. Teens appreciate the fact that Invisalign does not contribute to peer pressure, while adults report a high rate of positive feedback regarding Invisalign's low-profile look that allows them a greater degree of discretion at the workplace.
Compare Invisalign With Conventional Braces
Quick & easy office visits with Invisalign- we'll simply trade out current aligners with new, snug aligners.
Invisalign requires no wires, so there's nothing to poke sensitive tissue or create circumstances where you would need to schedule an emergency visit- a common occurrence with traditional braces.
With conventional braces, there's a risk of plaque buildup around brackets- not so with Invisalign.
Invisalign is removable, so patients can eat the foods they love with no restrictions. You'll never have to worry about hard foods breaking wires or brackets or sticky foods getting stuck in braces.
Are You a Candidate For Invisalign in Jersey City?
You could experience exceptional results through Invisalign treatment if you have any of the following issues with your teeth:
Gaps
Unusual spacing
Crowding
Protruding Teeth
Open Bite
Crossbite
Crooked Teeth
Caring For the Invisalign System is Easy, Too
Remove Invisalign's clear plastic aligners during meals and while brushing and flossing, then brush your aligners and rinse them with warm water. See our staff about every two weeks to change out aligners and keep teeth moving into position. No special equipment or treatment is necessary to keep aligners in good condition.
Schedule an Invisalign Consultation
We'd love to help you choose the right option for orthodontic treatment- just call Charming Smile Dental to book a consultation visit for Invisalign in Jersey City. If you're a candidate for the Invisalign System, we'll discuss length of treatment, costs involved, and results you can expect. We can send you home with additional materials to look over in the privacy of your home while you make your decision. Dollar for dollar, Invisalign is one of the best investments you'll ever make to improve the appearance of your smile.
Invisalign Jersey City
Charming Smile Dental
2014258600
115 Christopher Columbus Dr
Jersey City
NJ
07302
View Larger Map